kf5 ISO 2015.01.25 a Release Candidate?
Jan 26, 2015
Since May last year there have been 2-3 monthly snapshot ISOs based on the ongoing work to port all of KaOS to the all new Frameworks 5, Plasma 5 and KDE Applications based on those two. None of these ISOs were ever announced to the public, always kept for internal testing by only just discussing those in the forums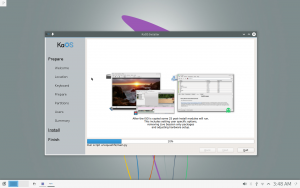 KaOS-kf5-2015.01.15 is a first ISO were it looks like kf5 is getting to a point were it might be ready to replace KDE 4 within a month or so. That is why a first ever announcing of a not stable release ISO in the News.
With this post, hopefully two things will be accomplished. First, by announcing to a wider audience more testing might happen. That would show if more new and possible show-stopper bugs are present.
Second, by releasing a very complete, fully Plasma 5 based ISO feedback might come for a general opinion on whether kf5 is now ready to replace KDE 4.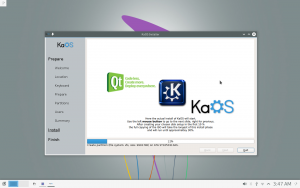 One thing KaOS has done quite different from most/all other distributions who are in the process of moving to kf5 is from the start the choice was made not to mix the two Desktops. It was never planned to use kf5 on top of KDE 4 based applications. Once Frameworks 5, Plasma 5 and KDE Applications kf5 based are deemed ready for stable, all of KDE 4 will be removed from the repositories, and KaOS will go back on focusing again on one Desktop Environment only.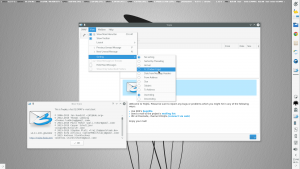 This ISO contains the stable release of frameworks 5.6.0 packages, plasma 5.2.0 based packages, KDE Applications 14.12.1 based and for all applications that do not have a stable kf5 release yet, but are in various stages of being ported, git builds of such packages are included. Examples of those that do not have a stable release yet but are included, are Dolphin, Digikam, Kdenlive, Marble, Ark, Kmix, the whole kde-telepathy group, Kget and Kompare.
Two complete Look & Feel packages made for KaOS kf5 are available, Midna & Midna-dark, where Midna is default at this stage.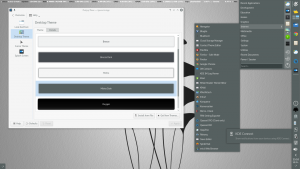 This ISO is not just for showing kf5 though, the new installer Calamares has had a good thirty bug fixes since the last stable ISO from December. New features are also implemented, this includes having a slideshow during the install and for UEFI installs, finding other installed Operating Systems that did use UEFI-GRUB.
For any comments/questions/discussions/known-issues on this ISO:
Forum link
This ISO is no longer available, stable kf5 ISO will be out shortly
Testing ISO is up for this at:
KaOS test ISO
To create reliable installation Media:
USB
DVD
Remember, KaOS ISOs are NOT compatible with unetbootin, and for DVDs, no write speed higher then 4x.